Gardening is a timeless hobby that not only provides fresh produce but also connects us with nature. One of the key decisions gardeners face is choosing the right materials for their garden beds. Raised garden beds are a popular choice due to their numerous advantages, such as improved soil drainage, better pest control, and easier access. In this blog, we'll explore the various materials used to make raised garden beds, their benefits, and considerations for each type.
Click to buy Ledgestone raised beds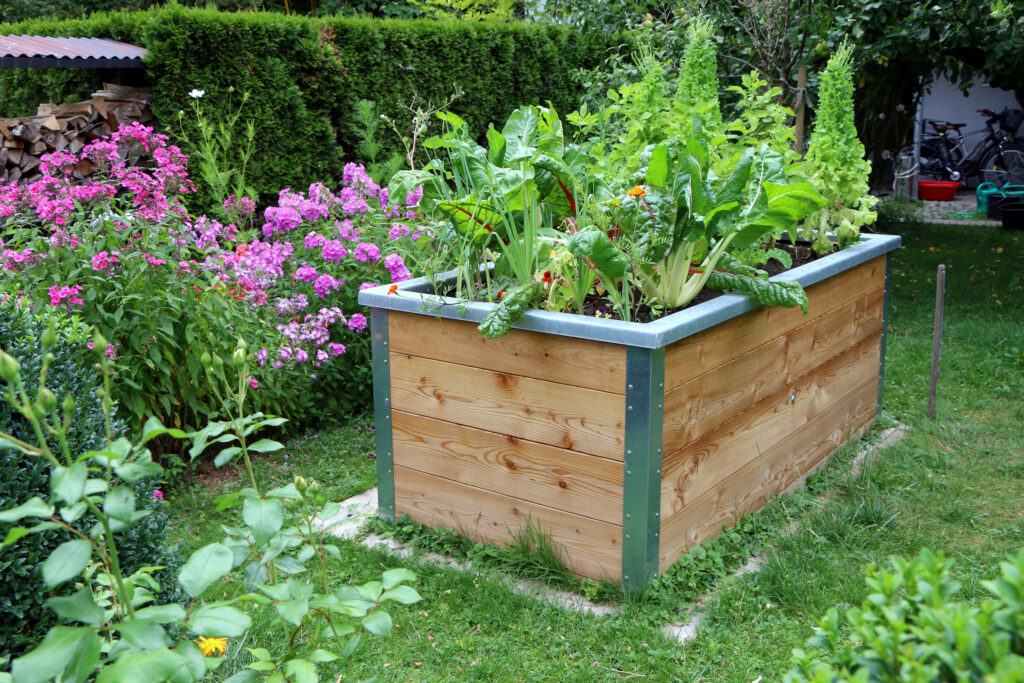 Wood:
Advantages:
Natural Aesthetic: Wood provides a warm, natural, and rustic appearance that complements garden surroundings beautifully.
Insulation: It offers excellent thermal insulation, helping to regulate soil temperature and protect plants.
Customization: Wooden beds are highly customizable in terms of size, shape, and design.
Readily Available: Wood is a commonly available material for DIY projects.
Considerations:
Cost: High-quality wood, such as cedar or redwood, can be expensive.
Maintenance: Requires periodic staining, sealing, or painting to prevent decay and maintain appearance.
Decay Over Time: Despite natural resistance, wood will eventually decay, necessitating replacements.
Vulnerable to Termites: Wood, even cedar or redwood, can be susceptible to termite infestations, which can compromise the structural integrity of the garden bed over time.
Source of these wooden raised garden beds.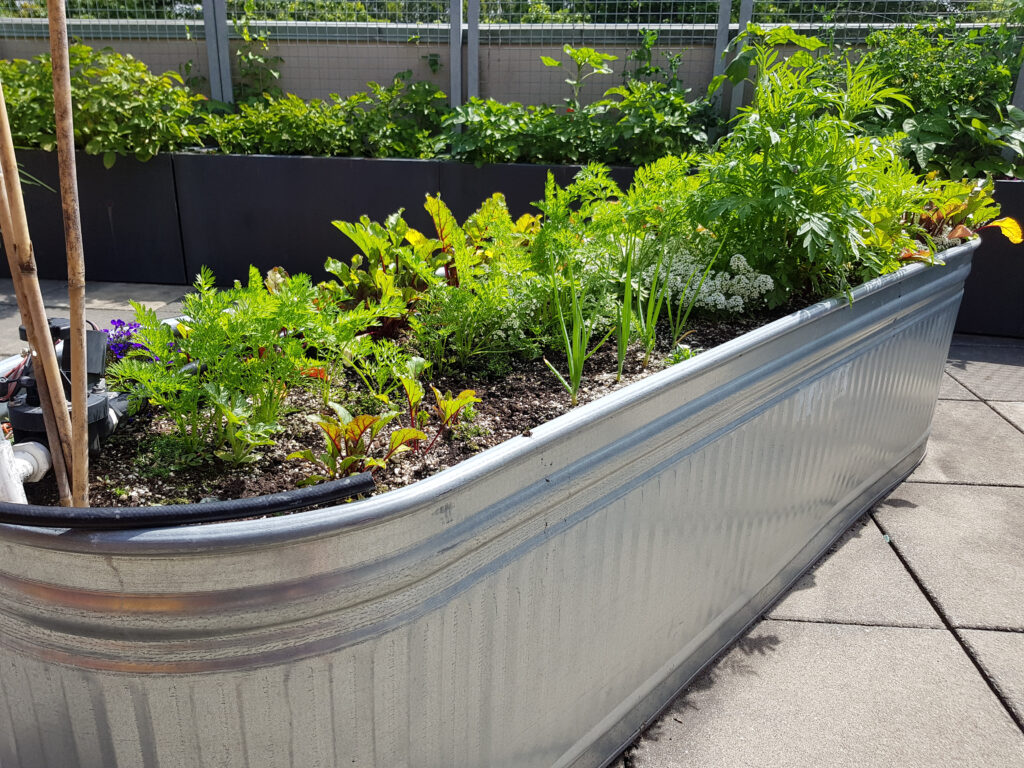 Metal:
Advantages:
Durability: Metals like galvanized steel or aluminum are highly durable and resistant to rust and decay.
Modern Appearance: Offers a sleek and modern aesthetic that some gardeners prefer.
Space Optimization: Can be designed to fit into small spaces or create unique shapes.
Low Maintenance: Requires minimal upkeep compared to wood.
Considerations:
– Heat Retention: Metals can absorb and retain heat, potentially affecting plant roots in hot weather.
– Cost: Generally more expensive upfront than wood or plastic.
Aesthetic Preference: Not everyone appreciates the contemporary look of metal.
Heavy When Built: While metal is durable, the assembled garden beds can be heavy, making them challenging to relocate or adjust if needed.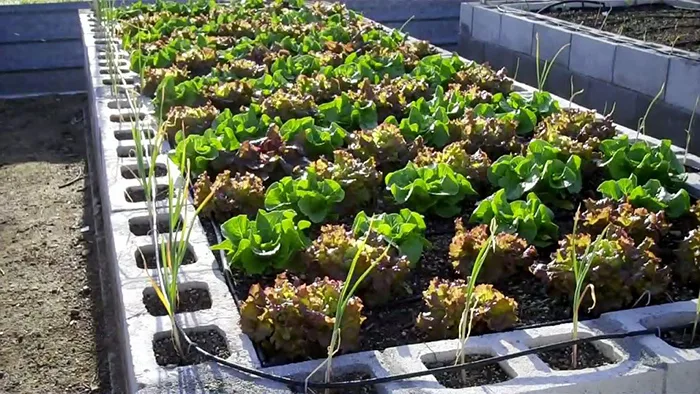 Concrete Blocks:
Advantages:
Durability: Concrete blocks are extremely long-lasting and can withstand harsh weather conditions.
Easy Assembly: Simple DIY installation with readily available materials.
Thermal Mass: Helps regulate soil temperature and provides stability to garden beds.
Affordability: Concrete blocks are often cost-effective.
Considerations:
Aesthetics: May not offer the same visual appeal as wood or stone for some gardeners.
Weight: Heavy and challenging to move once assembled.
Limited Customization: Difficult to modify the shape of concrete block beds after construction.
Limited Aeration: Concrete blocks do not naturally aerate the soil as well as some other materials, potentially affecting root health and soil quality.
Source of the concrete block raised garden beds.
Click to buy Ledgestone raised beds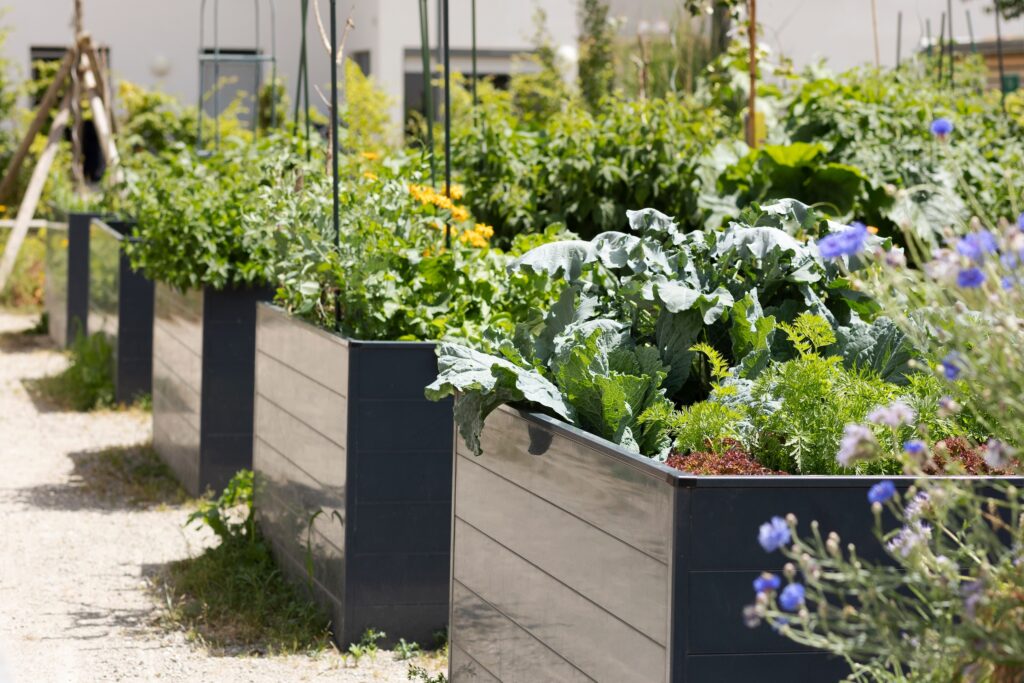 Plastic:
Advantages:
Affordability: Plastic garden beds are budget-friendly and readily available.
Lightweight: Easy to handle and move.
Low Maintenance: No staining, sealing, or painting required.
Water Resistance: Highly resistant to moisture-related issues.
Considerations:
Durability: May not last as long as wood or metal and can become brittle over time.
Heat Retention: Plastic can heat up in direct sunlight, affecting soil temperature.
Aesthetics: Some gardeners prefer more natural-looking materials over plastic.
Environmental Concerns: Some plastic garden bed materials may not be environmentally friendly due to their manufacturing process and potential for long-term environmental impact.
Source of the plastic raised garden beds.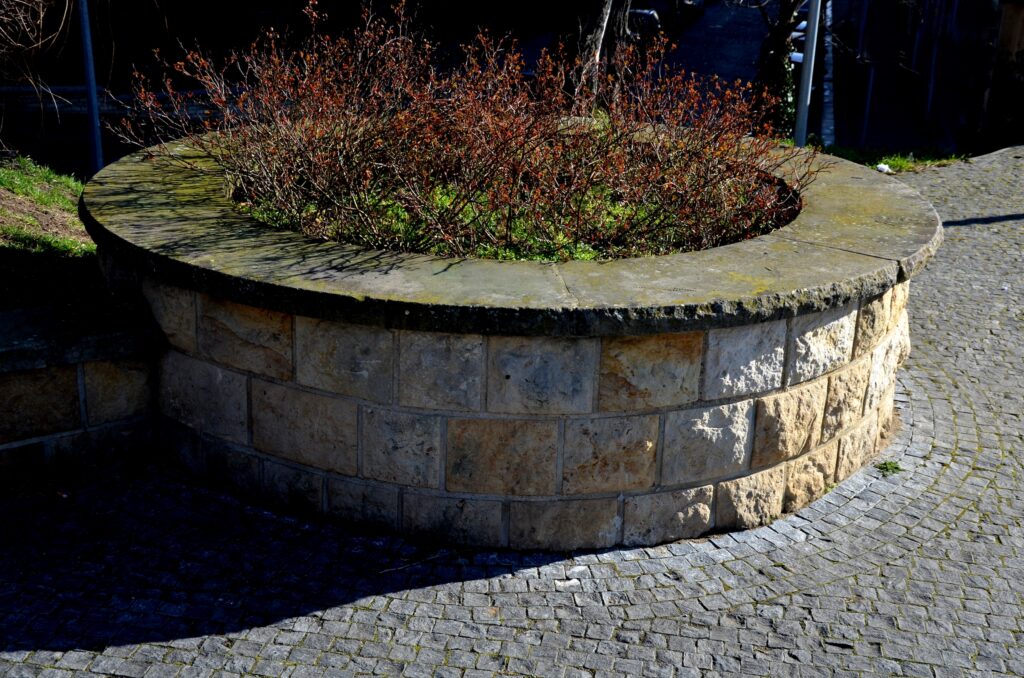 Stone or Brick:
Advantages:
Timeless Aesthetic: Offers a classic and elegant appearance that stands the test of time.
Exceptional Durability: Stone and brick can last for generations with minimal maintenance.
Thermal Mass: Regulates soil temperature and adds stability to garden beds.
Low Maintenance: Resistant to pests, decay, and other issues.
Considerations:
Cost and Labor: More expensive and labor-intensive to install than other materials.
Weight: Heavy and may require a sturdy foundation.
Limited Customization: Challenging to modify the shape of stone or brick beds once constructed.
High Cost of Installation: In addition to the initial material cost, hiring professionals or acquiring specialized tools may be necessary for proper installation, further increasing the overall expense.
Source of the stone raised garden bed.
6. Composite Ledgestones
Using Composite Ledgestones which are made of a Composite Polyurethane for garden beds provides a versatile and long-lasting solution that is resistant to rot, pests, and requires minimal maintenance. The following are some pros and cons using composite polyurethane for raised garden beds:
Advantages:
Durability: Resistant to rot, decay, and pests.
Low Maintenance: Requires minimal upkeep.

Sustainability: Often made from recycled materials.

Easy Installation: Simple DIY assembly.

Versatile: Pieces can be connected to make larger garden beds of different shapes and sizes

No Chemical Treatment: Free from harmful chemicals.
Considerations:
Initial Cost: Higher upfront expense compared to some materials.

Weight: Once assembled, Composite Polyurethane garden beds can be relatively heavy, making them challenging to move or reposition.
Heat Retention: Composite Polyurethane can absorb and retain heat from the sun, which can lead to elevated soil temperatures that may negatively affect plant growth, particularly in hot climates.

Limited Customization: Less flexible in terms of design and shape.
Source of the Composite Polyurethane raised garden beds.
Click to buy Ledgestone raised beds
Choosing the right material for your raised garden bed is an important decision that can impact your gardening experience and the longevity of your garden. Each material has its own set of advantages and considerations, so it's essential to evaluate your specific needs, budget, and aesthetic preferences before making a choice. Whether you opt for the natural beauty of wood, the durability of metal, the affordability of plastic, or the classic charm of stone, your raised garden bed can be a key element in creating a thriving and enjoyable garden space.